outdoor kitchens, bathroom vanities, shower/tub surrounds, tabletops and furniture. Curava provides the essential balance of aesthetic, sustainabilithy and materials construction. If you are considering a kitchen remodel or have decided to change the look of your bathroom Curava should be placed at the forefront of your decision making.
Curava products are made from resin and 100% recycled glass and seashells. The seashells that are used to produce the tiles are not altered in any way. The patterns of color and shine in the tiles and countertops come directly from nature. The other components that make Curava environmentally friendly are the recycled beer, wine, and water bottles along with defective glass and post-industrial sources. Curava is also stain, scratch and heat resistant.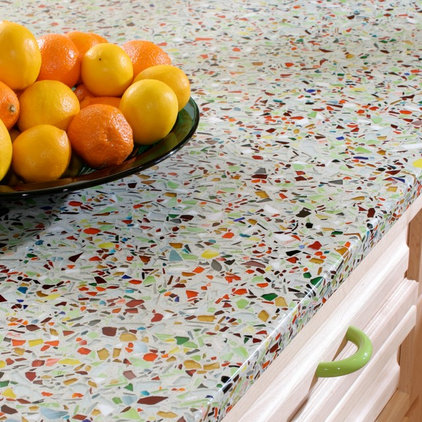 The countertops last a long time requiring minimal care and maintenance. The production of the tiles also uses zero water waste and very small amounts of electricity for each slab produced. Curava can also contribute to LEED points because of the recycled content and low emitting materials.
For more information please visit www.ggreendesign.com or call 508-477-7988.